The International Baccalaureate® (IB) Diploma Programme (DP) curriculum sets out the requirements for study of the DP. 
The curriculum is made up of the DP core and six subject groups.
Made up of the three required components, the DP core aims to broaden students' educational experience and challenge them to apply their knowledge and skills.
The three core elements are:
The six subject groups are:
There are different courses within each subject group.
Choosing subjects in the Diploma Programme
Students choose courses from the following subject groups: studies in language and literature; language acquisition; individuals and societies; sciences; mathematics; and the arts.
Students may opt to study an additional sciences, individuals and societies, or languages course, instead of a course in the arts.
Students will take some subjects at higher level (HL) and some at standard level (SL). HL and SL courses differ in scope but are measured according to the same grade descriptors, with students expected to demonstrate a greater body of knowledge, understanding and skills at higher level.
Each student takes at least three (but not more than four) subjects at higher level, and the remaining at standard level.
Standard level subjects take up 150 teaching hours. Higher level comprises 240 teaching hours.
Hear from our DP community
Tweet
Email
DP subject briefs
Our recognition resource and document library has subject briefs for the DP, looking at every subject at both standard and higher level.
The subject briefs cover core requirements, aims and assessment. To find them, open the 'DP subject briefs' panel in the resource and document library.
The Information Technology in a Global Society (ITGS) course currently offered was first taught in August 2010 and forms part of the International Baccalaureate(IB) Diploma Programme.
This innovative course lies within Group 3 which examines individuals and societies. The ITGS framework is modelled on a 'triangle'. It uses an integrated approach, encouraging students to make informed judgements and decisions about the role of information and communication technologies in contemporary society.
Teachers are entrusted to use professional judgement in determining the best delivery of the ITGS course.
The ITGS triangle
Composed of three strands, with interrelating topics within each: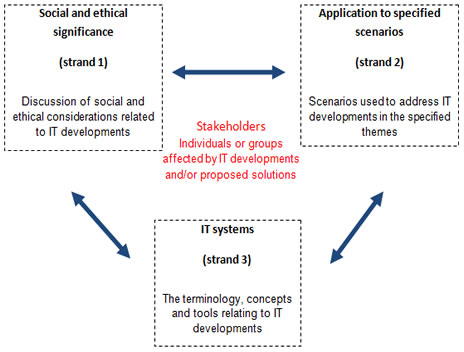 Key features of the curriculum and assessment models
Two courses are offered, Standard Level (SL) that requires 150 hours of teaching time over two years, and Higher Level (HL) that requires 240 hours.
The ITGS course is based on three interconnected strands; Social and ethical significance, Application to specified scenarios, IT systems.
The ITGS triangle lies at the heart of the pedagogy. With an understanding of the information technologies, students must be able to evaluate social/ethical issues in specified scenarios.
The course is continuously reviewed to ensure it is current and relevant. Minor changes in syllabus content may be introduced each May, for first examinations two years later.
ITGS requires students to have strong research and higher order thinking skills.
Teachers may choose any relevant contemporary article to illustrate scenarios. A vibrant wiki has been developed to help teachers share resources.
Collaboration between schools, teachers and students is encouraged. Teachers need to keep abreast of emerging online tools, applications and hardware.
A component (HL only) is linked to the annually issued case study. This requires students to investigate a new topic related to the subject in greater depth.
ITGS requires students to develop a product that would be suitable for a client. The aim of this assessment is to support and prepare students for the workplace.
ITGS is the perfect platform to study social informatics at university level.
Learn more about ITGS in a DP workshop for teachers.
Tweet
Email